La Popote. Father's Day. Is there a finer combination? A sweeter sound? We certainly aren't sure that there is. Visit our striking restaurant, soak in the ambiance, and really relax as we ensure your dad is treated to the lunch / dinner that he deserves. Fresh food and fine wine are combined with spectacular service at our base in the heart of the stunning Cheshire countryside.
Casual fine dining is at the core of what we do, melding traditionally fantastic dishes with a warm and comfortable environment. Whether you'd like to sit indoors and enjoy the beautiful décor or take advantage of our Secret Garden, the team at La Popote are ready to greet you with a smile.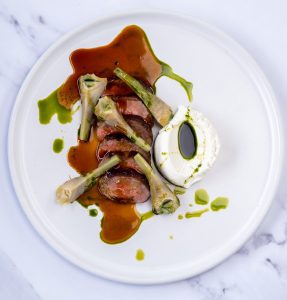 Our menus include a tasting menu option, designed to bring a range of spectacular dishes, the best of what we have to offer, to your table. We are proud to be one of the only French Restaurants offering a fantastic tasting menu around, and such take pride in each experience. You may request our tasting menu upon arrival.
As touched upon, all our menus change regularly, reflecting the seasonality of produce in order to ensure the best possible culinary experience. We aim to leave you feeling like fine dining in Cheshire has never been more comfortable, more enjoyable, or more a reason to celebrate Father's Day with us. At La Popote, each table is a blank canvas, waiting to be adorned with our fine wines and wonderfully curated dishes.
Book Today
Get in touch by calling 01260 224 785, or make the most of our online booking portal. Either way, we can't wait to greet you for Father's Day celebrations at La Popote.