We pride ourselves in stocking the finest, locally sourced ingredients that Cheshire and the surrounding areas have to offer. This ethos goes into almost everything we do at La Popote, and our choice of water is no exception. When you make the decision to indulge in the La Popote fine dining experience in Cheshire, you'll have the opportunity to wash your pallet with Crag Spring Water.
Crag was the natural choice for La Popote. Nestled in the foothills of Shutlinsloe, they take advantage of the naturally filtered spring water of the beautiful Peak District, bottling it in reusable glass bottles and delivering straight to our door in Marton. This environmentally aware organisation provides our restaurant with locally sourced still and sparkling water in 330ml or 750ml sizes.
With Water Sommelier Doran at the helm, Crag Spring Water has seen much attention in the media from the BBC to ITV, and it's no wonder.
Book Today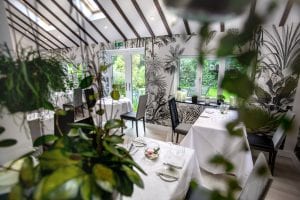 To experience the best in fine dining in Cheshire, get in touch with the La Popote team today by calling 01260 224 785, emailing info@la-popote.co.uk, or using our easy-to-navigate online booking system.