Are you familiar with the fine dining landscape in Cheshire? Well, did you know that just a stone throw from Macclesfield, Prestbury, Alderley Edge, Congleton and Wilmslow, is the product of a profound culinary lineage spanning back to some of the greatest French Chefs? Yes, that's right, that product is Chef Joseph Rawlins and his team at La Popote.
Chef Joseph Rawlins, a Wilmslow native returned from years of tutelage in Paris, has since taken La Popote to new heights. Under the command of Joe and Gaelle, La Popote has been transformed into a haven of fresh, seasonal food, fine wines, and a place to have a true culinary experience. Fantastic, welcoming service is at the heart of their operations, making sure you aren't only satisfied with the food on your plate.
Guillaume Delage
Guillaume Delage is a formidable French Chef and directly responsible for the tutelage of Joseph during his time in Paris. Delage opened Jardis in 2014 to rave reviews, serving a gently updated take on classic French cuisine. The highly creative chef is known for his unique cooking style and stunning presentation, traits that have followed Joe into the kitchen at La Popote.
Pierre Gagnaire
Guillaume himself was tutee of Pierre Gagnaire, a chef with no less than 12 Michelin Stars under his hat. Gaganaire, much like Guillaume and Joseph, is known for a modern and creative take on classic French cooking. Pierre is at the forefront of fusion cuisine, one of the first chefs to embrace the idea of food as art. The impressive Chef Paul Bocuse taught Pierre himself. His teachings have found themselves at home in La Popote, a bastion of fine dining in Cheshire.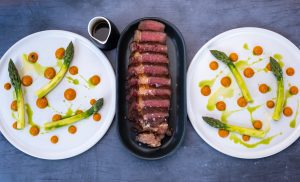 Joe is continually building on techniques learnt, and sharing them with his team in the kitchen. Much like his predecessors, Joe knows that there is always something new to learn, with his next big dish waiting around the corner.
Contact Us
Discover a lunch or dinner to remember. Experience exceptional casual fine dining in Cheshire, and book online today.