What is the Wagyu Rump Picanha?
A highly prized, rare delicacy, the Wagyu Rump Picanha is one of the most flavourful cuts of beef that you will find. Particularly popular in Brazil, but also across the world, the Wagyu Rump Picanha is a delicacy, but what makes it so special? Buttery, tender, and juicy, the Japanese cow is fed on a diet of cereal and grains, which provides the meat with the iconic marble texture. Rigorously checked to ensure it meets the famous high wagyu standards, this is a dish that has become a hugely popular feature of our a la carte menu.
Bold Flavours
For only £40, you can experience an adventure of bold flavours. Melding the flavours of one part of the world and the traditional cuts of another, this Wagyu beef is a precious dish that we are more than happy to serve our guests. It is notably challenging to find this cut of steak in the UK, especially Wagyu, with the rarity ma. Although we like to keep our menus as seasonal and local as possible, we couldn't pass on the opportunity to feature this famous cut in our French restaurant.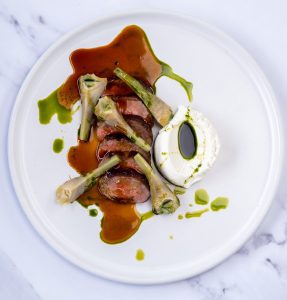 Your Chef
The man behind this particular incarnation of the Wagyu Rump Picanha is Owner & Chef Joseph Rawlins. Joe was trained in some of the most formidable restaurants of Pari. As a result, Chef Rawlins is a product of a truly bold culinary lineage. He is supported by an excellent team in the kitchen and front of house, all of whom are key to the success of the French restaurant.
French Restaurant Cheshire
Book your fine dining experience today, and sink your teeth into the Wagyu Rump Picanha. You can reserve your table online now. La Popote specialises in casual fine dining in the heart of Cheshire. A French restaurant near Alderley Edge, and Congleton, La Popote can be found in the stunning village of Marton.